SERVICES: Orlando's Best Home Inspection
Orlando's Best Home Inspection Service for ALL Single Family Residential Homes. Orlando Home Inspection Service includes Orlando Condo Inspections as well. An Orlando Home Inspection will give the Buyer or Sellers, depending on the service, a peace of mind knowing the issues that may have otherwise gone undetected may be, in most cases, identified.
---
Orlando Home Inspection or Building Inspection Services is a special service that ALL Orlando Buyers and Orlando Sellers alike should have done and can certainly benefit from. When you buy an Orlando Home or sell an Orlando Home for that matter, there's no doubt a competent Orlando Home Inspector will find items that need either Orlando Home Repair, Maintenance or Replacement. The Florida Real Estate Law requires the Orlando Sellers to disclose ALL Known Orlando Home Inspection Issues. The key wording is ALL KNOWN ISSUES. An Orlando Home Inspection from Orlando Home Inspector Gordy Haynes will help you find many of those very issues that would only come up AFTER you close on your new Orlando Home or from the Sellers perspective, cause the sale to be delayed or perhaps even fall through. Knowing the fact and Orlando Home Inspection knowledge of the Orlando Homes condition is so important to all parties. We inspect hundreds of items with each and every Orlando Home Inspection. Pay particular to the following information;
IMPORTANT COMMENT ON
"Recommend Further Review By Licensed Professional"
There's rarely an Orlando Home Inspection that I won't have one or more comments "I recommend further review by licensed professional" in a report.
Some of the main reasons are;
I'm seeing items, issues or concerns that are beyond my license level of expertise as a Generalist, Certified Home Inspector and/or my qualifications. It would be irresponsible to make comments for issues I'm not licensed or qualified to comment on and I don't do it.

As "Your" home inspector, I have no ones interest in mind but yours. When I recommend further review by a licensed professional, I'm structuring within "Your" home inspection report, a reasonable cause and expectation for you to require the seller, to ensure to you, the items or issues are clearly identified, corrected or otherwise adjusted for in the the price BEFORE YOU CLOSE ON THE PROPERTY.

I'm structuring a reasonable cause to have a licensed professional further review the items and issues of concern and obviously that should include a projected cost and time frame for the issues. (Important to both the seller and the buyer)

In all cases, any recommendations for further review by licensed professionals, are "Your" responsibility to schedule AND pay for.
This is so important to you because it could mean "numerous licensed professionals" need to be involved. While this may seem frustrating, it should be clear, it's you, my client, that I'm making every effort to protect. So please do not ignore "Recommendation For Further Review By Licensed Professional" AND HAVE THEM FURTHER REVIEW "BEFORE" YOU CLOSE!
---
Orlando Home Inspection Types
Pre-Purchase Orlando Home Inspection for the Buyer Buying a home in today's Orlando Real Estate Market place can be both challenging and rewarding if you make the right decisions and buy at the right price. Services of Orlando's Best Home Inspection can help you with that challenge. Our Pre-Purchase Orlando Inspection for the Buyer insures you, the buyer, will have a better idea of what your considering. This is our most called for Orlando Home Inspection at Orlando's Best Home Inspection.
Services For Pre-Listing Orlando Home Inspection For The Seller Selling your home in today's Orlando Real Estate Market is especially challenging. All seller's realize that but few understand how important a Pre-Listing Orlando Home Inspection can be to them. You know about curb appeal, the right real estate broker, pricing to stay ahead of the market rather than chasing it with too high of a sells price, but realize that when you do get a an offer you accept, your buyer will have their inspection. It's very likely the buyer's Orlando Home Inspector will find issues you didn't realize existed. Then the services and schedule of and cost of correcting the items for the buyer, the underwriter requirement and the buyer's insurance company, will all of a sudden be a time of frustration and anxiousness for you, the seller. Once you've made the decision to sell, Call Orlando's Best Home Inspection Company. We'll help understand the issues with your home BEFORE your sale becomes in jeopardy. And remember, Gordy Haynes, Certified Orlando Home Inspector with Orlando's Best Home Inspection will be available for questions and concerns long after you've sold your home and moved on to that next new home that's just waiting for you and your family after the sale of your old home.
Builder "ONE YEAR HOME WARRANTY" Orlando Home Inspection Service. Don't let your time run out on small issues that could become major repair items that your "One Year Builder Warranty" would cover. Have an expert Orlando Home Inspection from Gordy Haynes Certified Orlando Home Inspector of Orlando's Best Home Inspection do a home inspection for you today.
Services 4 point Insurance Home Inspections At Orlando's Best Home Inspections, Orlando Home Inspection by Orlando Home Inspector, Gordy Haynes we have a referral services for 4 Point Insurance and Wind Mitigation Inspections. Orlando home Inspections. Call today and we'll help you schedule yours BEFORE your policy comes up for renewal.
Orlando Home Inspection For Investors: (May Include An Optional COST ESTIMATE) If you're an Orlando Home Investor, you owe it to yourself to Look At Our Cost Estimate. It's an Orlando Home Inspection "Optional Service" that can give you profound negotiating power during the deal making. When Gordy does you Orlando Home Inspection, if he see's issues that could cost hundreds, maybe thousands to repair or replace, he'll recommend you have the "Optional Cost Estimate" along with the standard Orlando Home Inspection. You'll receive a Cost Estimate that details hundreds, maybe thousands of dollars that can demonstrate to the Seller or Bank the need for major spending AFTER THE SALE IS CLOSED! Think about what that could mean to you as a Buyer. You not only have them over a barrel for what is wrong and requires possibly a lot more cost, but it shows a range of HOW MUCH the items will cost to repair or replace. It's become a game changer for you, the Buyer. Cost estimates cost $425.00/$25,000.00 of issues written.
Check out a sample Cost Estimate report here:
http://viewnow.biz/ghsamples.htm
---
We are available For Service Throughout All Orlando Metro And Surrounding Areas.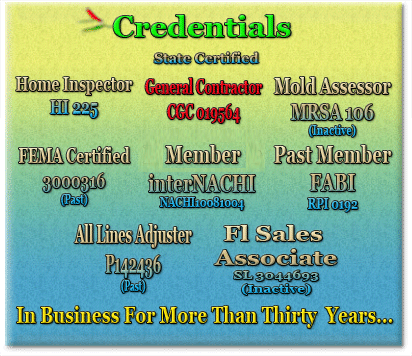 Orlando's Best Home Inspection Service
The name to know is:
Gordy Haynes, Orlando Home Inspector providing Orlando Home Inspection Service
---
Providing One Of The Best Home Inspection Services For The Following Areas;
Orlando, FL, USA; Winter Park, FL, USA; Apopka, FL, USA; Kissimmee, FL, USA; Sanford, FL, USA; Doctor Phillips, FL, USA; Celebration, FL, USA; Reunion, Four Corners, FL, and locations within 20 miles; Isle worth, East Lake, FL, USA; Edgewood, FL, USA; Conway, FL, USA; Eaglebrook, Citrus Park, FL, USA; Casselberry, FL, USA; Winter Springs, FL, USA; Maitland, FL, USA; St Cloud, FL, USA; Champions Gate, Four Corners, FL, USA;
Specializing In Orlando Home Inspection Service For All Types Of Orlando Homes, Buildings And Construction Styles