Reunion Home Inspection From Home Inspector Gordy Haynes
---
Why Choose A Home Inspection From Gordy Haynes: Home Inspector?
There are many reasons. But the best reason is his Reunion Home Inspection Experience. When it come to knowing what you're looking at, many times you just can't get that from a book or week end class. (like many home inspectors today got much of their working knowledge of home inspections) You just can't buy real, hands on, "I built it" home building and home inspection experience. You have to earn much of it.
Home Inspection & Home Building for more than thirty years.
Our Reunion Home Inspection Includes;
We strive for 100% customer satisfaction with every Reunion Home Inspection and offer a one of a kind "Optional" cost estimate of the Reunion Home Inspection Issues found.
Check out a sample Cost Estimate report here:
http://viewnow.biz/ghsamples.htm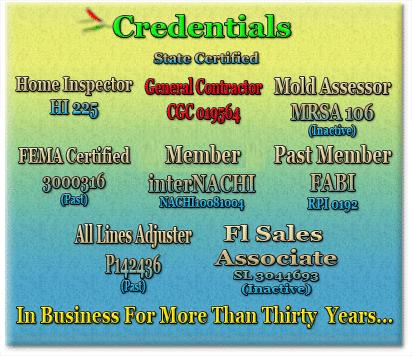 Reunion Home Inspection Service By Gordy Haynes
One Of The Best Reunion Home Inspection At Affordable Pricing
Reunion Best Home Inspection Services The Following Areas With
Experienced, Licensed & Insured Home Inspections
Home Inspections In All Orange County, Seminole County, Osceola County & Polk County
Orlando Home Inspection, Reunion Home Inspection, Kissimmee Home Inspection
Maitland Home Inspection, Casselberry, Winter Garden, Ocoee, Apopka Home Inspection, Edgewood Home Inspector, Geneva, Belle Isle, Lake Buena Vista, Windermere Home Inspection, St. Cloud, , Celebration, Champions Gate
Gordy Haynes-One Of Reunion Best And Most Experience Reunion Home Inspectors